You can buy HWS250! cutter directly from our new eShop! Pay with Credit Card and chose the optiomal delivery method!
A first-class "Hot knife cutter" for every occasion
The HWS250 foam cutter, also called the "hot knife", is designed for cutting various polystyrene-based materials, such as non-pressed expanded polystyrene (EPS) and extruded polystyrene (XPS), or similar materials. The main feature of the HWS250 cutter is its huge variety of optional accessories and blades, which, in combination with its power max. 320W, mobility, light weight (400 g net) and flexibility, makes the hot knife cutter HWS250! an essential tool for handling polystyrene or similar materials.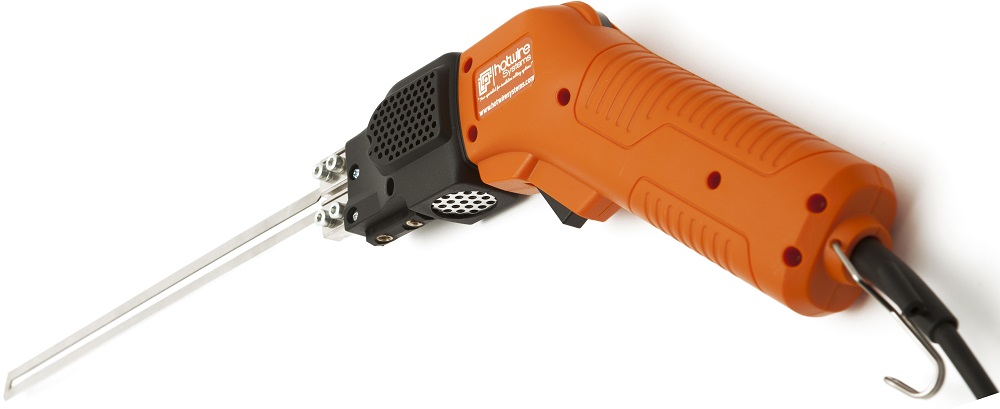 The styrofoam hot knife cutter HWS250! has a step-by-step power controller to change the temperature of the blade and an LED indicator to show the degree of temperature change. The HWS250 styrofoam cutter has proved itself to be an indispensable tool on the construction site, in the design studio, with model making masters, and for a range of hobbies and pastimes. 
Line voltage: 

 230-volt/50 Hz  

| 

  110-volt/60 Hz  

Power: max. 320W

Power cord: 2m

Plug type: EURO Type F,E
(Available different option on pre-order)

Cutting depth: up to 240mm

Blade temperature: max. 500° C

Operating temp.: 0° kuni +35° C

Weight: 0,550kg

Step-by-step power controller

Air-Cooling ventilation
Ready-to-use in 3-5 sec.

Optimal electrical efficiency

Easy blade change

Protective insulated

A wide range of optional accessories and blades

Allows sections of very different shapes

Large operating range, fast cutting

LED On-indicator lamp

Adjustable temperature

Low self heating

Interchangeable blades

No dust and no static charge

Portable carrying case

Ergonomic design
Basic kit of

HWS250!

cutter incl:
Hot knife cutter HWS250

Cutting blade Type-D25 (L=250 mm)

Brass brush

Allen key

Measuring tape

User manual

Portable carrying case

Name

Art. nr.:

Hot knife cutter HWS250

HWS-250

Optional accessories

Bendable blade Type-G30 

(L=30cm)

HWS-G30

Groover

(Grooving platform)

HWS250-G

"MINI"-Platform

(Tube seat groover)

HWS250-TG

Cutting guide

(Adapter for straight blades)

HWS250-CG

Cutting blade Type-D20

(L=20cm)

HWS250-D20

Cutting blade

Type-D20

(L=20cm)

HWS250-D25

Status:

All items are In Stock

Important: The hot knife cutter HWS250 is intended for short-term use. If the cutter is operated continuously for a long time, it can result in transformer failure and excessive bending of the cutting blade. 
BENDABLE CUTTING BLADE 

TYPE-G30
The bendable blade Type-G30 is used as a cutting element for grooving platforms. The blade has a medium level of elasticity and may be bent without special tools. The desired shape (for example, a semicircle with different diameters for cutting grooves for tubes) can be changed by hand or by using whatever tools are available. Use pliers for straight rectangular or angular bends. The flexible blade Type-G30 is 30 cm long and 5 mm wide.

GROOVING PLATFORM –

"GROOVER"
The grooving platform "Groover" works only with the shaped blade Type-G30. The Type-G30 blade bent into the desired shape is fixed in special width adjustable holders, which can also be used to adjust the height of the blade.

The grooving platform "Groover" is equipped with detachable guide rails which can be adjusted over the entire width of the platform. You can use one or two rails or remove them completely by unscrewing the fixing bolts. The allen key is attached to the top of the platform for fast installation of the grooving platform on the hot knife cutter.
TUBE SEAT GROOVER

 –

"MINI" PLATFORM
The tube seat groover (grooving "MINI" platform) works only with the shaped blade Type-G30. Unlike the more advanced model (grooving platform), the MINI platform is primarily used for cutting small grooves, grooves for different tubes or, for example, for fittings. The height of the blade can be adjusted.

ADAPTER FOR STRAIGHT BLADES –

"CUTTING GUIDE"
The adapter for straight blades "Cutting guide" helps cut expanded polystyrene evenly and at different angles. The adapter is fixed with two bolts to the base of the hot knife cutter and is generally used with standard straight blades Type-D20 (L = 200 mm) and Type-D25 (L = 250 mm). The adapter is fitted with an adjustable guide bar with a back stop and an angle adjuster.

Important: When using optional accessories, always take into account the length of the blade fixed in the holders of the platforms and choose/adjust the correct blade heating cycle. To do this, follow these steps:
Set the step-by-step power controller to the minimum value.
Fix the blade to the platform holders.
Activate the cutter by holding down the power button (switch)
Touch the material with the blade.
Turn the step-by-step power controller until the blade starts to cut the material smoothly. Note that it takes 3 to 5 seconds for the blade to heat to the value set on the controller.
When the right value is set, you can now start working.
We sell and ship products all over the world!
Our insulation cutting systems are sold in Europe and in many countries throughout the world from Finland, Sweden – to Turkey and Canada.
Delivery times vary widely from country to country, they also depend on how effective your local postal services are. However, we have made an estimation of 1-3 working weeks for Europe countries: Latvia, Lithuania, Finland, Sweden, Norway, and 3-6 working weeks for other Europe countries (incl. Russia, Belarus, Ukraine, Kazakhstan). The estimated delivery time to major cities outside Europe (Asia, North America, South America, Australia) starts from 4 working weeks.
Shipping costs are determined by the order's size, weight, shipping method and delivery address. We calculate shipping price for each order individually. 
Please contact us for more information!
Our shipping partners are DPD, Omniva, Itella SmartPost, DHL, UPS, DB Schenker.
You can buy HWS250! hot knife cutter and all optional accessories directly from our new WorldWide eShop!
The buying process is very simple and clear. Choose the items You want to buy, choose the delivery method and pay with credit card or direct bank transfer (Bank wire). That's All!

"Your specialist for insulation cutting systems!"